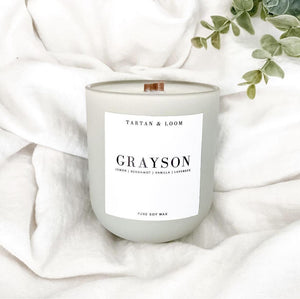 Tartan and Loom | Made in small batches in BC

SCENT PROFILE:
Bergamot citrus, lemon drops and hints of warm vanilla mingle together with light lavender creating a fragrant finish in this signature scent that will have you longing to be whisked away to a peaceful place.
MORE DETAILS:
Soy candle
4 oz tin
20+ hrs burn time
Choose between 12oz glass vessel or 4oz black tin
CANDLE CARE:
make sure to burn your candle 2-4 hours every time (4 hours for the 12oz vessel)
allow the wax to melt on the entire surface
trim wick before each use
burn on a heat resistant surface
SHIPPING: Free shipping on all domestic orders over $125. Your order will ship within 3 business days.