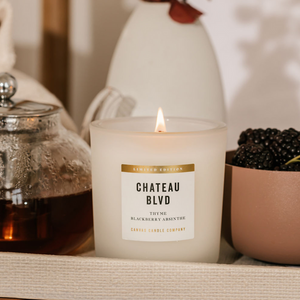 Scent Notes: Thyme, Blackberry + Absinthe 

Inspired by Whistler's village of alpine-backed resorts and luxurious nordic spas, Chateau Blvd is an enchanting blend of thyme, blackberry and absinthe that creates a retreat of aromatic herbs with hints of refined luxury.
As you embark on the journey of this soy candle, you'll be entranced by the tranquil layers that you long for and the notes that blissfully linger. Thyme whisks you to a serene and relaxing state as top notes of absinthe intrigues the senses. Subtly sweet blackberry awakens and captivates the mind to complete this spa-like relaxing scent. 
Chateau Blvd makes the perfect backdrop for a calming bath, a serene night cozied up with hot herbal tea, or a Sunday without any plans but to focus on self care before heading into the week.
All of our candles at Canvas Candle Company are made with phthalate free and paraben free fragrance, natural essential oil, lead-free cotton wick. 


You'll love Chateau Blvd if you've liked these scents: Twilight, Bloom
SIZES:
Choose between:

6oz gold tin with up to 40 hr burn time
8oz glass vessel with a natural cork lid and up to 50 hr burn time
CANDLE CARE:
For optimal burning, we recommend burning your candle long enough the entire surface becomes liquid with each burn. This will prevent tunneling in your candle.
Before relighting your candle, always be sure to trim your wick to 1/8". This will ensure a longer and cleaner burn while keeping the flame under control.
Never leave your candle unattended while burning and always burn your candle on a fire proof surface that is clear of obstructions. 
If there is less then 1/2" of wax remaining do not light your candle. Burning with less then 1/2" of wax remaining increases the chances of overheating of the vessel.
SHIPPING: Free shipping on all domestic orders over $125. Your order will ship within 3 business days.