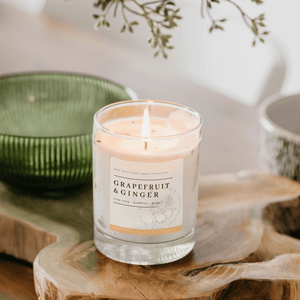 GRAPEFRUIT GINGER: Experience a truly unique blend of citrusy top notes, including lemon, grapefruit, and peach - delicately intertwined with fruity floral middle notes of olive blossom, geranium, jasmine, and rose. Enjoy the warmth of sweet mint and heliotrope, topped off with a spicy cinnamon and powdery raspberry base note. 


Tumbler Jars are one of our longest-lasting candles, and will give you plenty of time to enjoy the gentle scents drifting from room to room in your home.
For comparison, these are a bit larger than the Marketplace Jars, and smaller than the Pillar Jars.
One of the great things about Natura soy candles is that when you finish them, there is almost no wax left in the jar. 
That makes it easy to re-use the jars as quality drinking glasses (these candle containers are actually whiskey tumblers!).


As always… only all-natural goodness in these Tumbler Jars: 
Pure soy wax
100% cotton wicks
Plant based essential oils
Why Tumbler Jar:
One of our longest burning candles
"Happy medium" size between the Marketplace Jars and Pillar Jars
You get a high quality drinking glass when you're done enjoying your luxurious soy candle!
Or use our Refills to keep enjoying more luxurious natural scents!
MORE DETAILS:
10 oz of sun, earth, & rain produced pure soy wax
65+ hour burn time
BURNING TIPS:
Give your new Tumbler Jar candle a good 3 hours or more to burn the first time, until the wax is pooled to the edge of the jar
Enjoy your favorite chilled drink out of this nice tumbler glass when you're done, and remember the good times :)
REVIEW:
"Wow! Can't say enough about these Tumbler Jar Candles. Love the light scents of each one I received, the packaging was so nice too. I love that they're natural and made with plant based products. What more could you ask for. Also love supporting a Canadian Company. ❤️"


SHIPPING: Free shipping on all domestic orders over $125. Your order will ship within 3 business days.