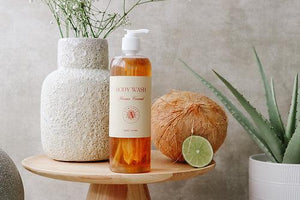 Handmade by Auratae

Our body wash is formulated with a truly natural wash using coconut and olive oil Castile which enriches skin and leaves it hydrated and smooth. It lathers beautifully because of an organic coconut sudsing agent.

Improve skin texture, hydrate and feed your skin only the best.

100% Non toxic and cruelty free.
SCENT DESCRIPTION:
 Coconut, vanilla, italian lime

INGREDIENTS: Olive Oil Castile, Distilled Water, Vitamin E, 100% Essential Oils

SHIPPING: Free shipping on all domestic orders over $125. Your order will ship within 3 business days.