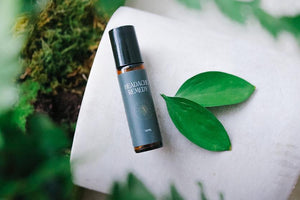 We might be a little bias but I think our peppermint blends are the best! It's all in the quality of ingredients.

Our headache remedy is a blend of Organic Peppermint,Lavender,Star Anise and Vanilla. This roll on was created to help melt your stress, pains and headache away!
USAGE: Roll onto your temples and back of neck for a headache. For digestive issues, roll onto your lower abdomen. Roll onto lower back for cramps and directly onto sore muscles. For anxiety, roll onto your wrists and smell when you're feeling anxious (my personal favourite way!)


SHIPPING: Free shipping on all domestic orders over $125. Your order will ship within 3 business days.