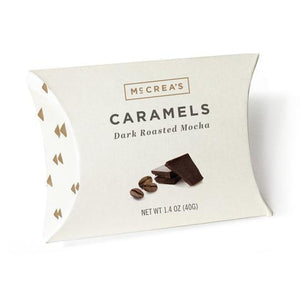 FRESHLY GROUND COFFEE BLENDED WITH RICH, DARK CHOCOLATE BRINGS AN UNMISTAKABLY CREAMY TASTE. 
McCrea's handcrafted and award winning caramels made with the finest salts, spirits, and seasonings. Perfect combination of smooth, sweet, fresh, and unexpected. 
Perfect stocking stuffers!
DETAILS:
SIZE: 1.4oz pillow box

No corn syrup, artificial flavours or colours
Gluten free, Peanut/nut free, Soy free
Packaged in recyclable, biodegradable packaging with soy inks
INGREDIENTS:
Fresh Milk, Fresh Cream, Cane Sugar, Inverted Cane Sugar, Tapioca Syrup, Chocolate Liquor (Dutch-processed), Butter (cream, salt), Molasses, Fresh Ground Coffee Bean, Vanilla Extract (alcohol 35%), Salt.
REVIEWS:
"These are the best caramels I have ever tasted. They came in a customized gift box from a vendor. They taste so rich and full of coffee flavor. The ingredient list is incredibly clean: fresh milk, fresh cream, cane sugar, chocolate liquor, butter, molasses, fresh ground coffee bean, vanilla extract, and salt. Absolutely delicious!" -Ashley
"
If you love coffee, you will love this caramel.
These are my favorite caramel. I love coffee and I love chocolate, so these are a perfect match for me. I adore the crispy coffee bits in this caramel. The little bit of crunch is just an added pleasure." -Wendy
SHIPPING: Free shipping on all domestic orders over $125. Your order will ship within 3 business days.