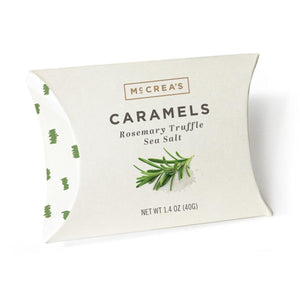 COMPLEX, HERBAL AROMATICS BALANCE SWEET WITH SAVORY FOR AN INCREDIBLY INDULGENT TASTE. 
McCrea's handcrafted and award winning caramels made with the finest salts, spirits, and seasonings. Perfect combination of smooth, sweet, fresh, and unexpected. 
Perfect stocking stuffers!
DETAILS:
SIZE: 1.4oz pillow box

No corn syrup, artificial flavours or colours
Gluten free, Peanut/nut free, Soy free
Packaged in recyclable, biodegradable packaging with soy inks
INGREDIENTS:
Fresh Milk, Fresh Cream, Cane Sugar, Inverted Cane Sugar, Tapioca Syrup, Butter (cream, salt), Molasses, Sea Salt (sea salt, activated charcoal, truffle mushroom), Fresh Rosemary, Salt.
REVIEWS:"Caramel Queen.
We received the Family box as a gift. First of all, the packaging is lovely. When I saw the flavor combinations pictured on the front of the box, I was a little hesitant. The first one I tried was the Rosemary Truffle Sea Salt. Absolutely Delicious!!! Every flavor in the box was delicious! I will be ordering these caramels for my clients."
-K
"
OBSESSED!
If I could live on these caramels I would. The savory and sweet is EVERYTHING." -A
SHIPPING: Free shipping on all domestic orders over $125. Your order will ship within 3 business days.