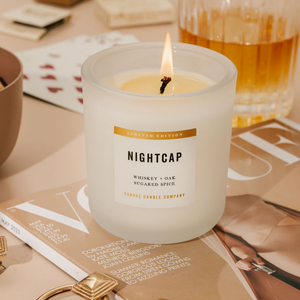 Scent Notes: Whiskey, Oak + Sugared Spice 

As the temperatures drop and the nights grow longer Nightcap becomes a cozy companion.Once you light the wick, you'll be embraced with the intoxicating aroma of a refined aged whiskey, creating the perfect setting for a night to warm up beside the fireplace with traditionally-crafted cocktails. 
Earthy undertones of whiskey-soaked oak barrels emerge as the fragrance lingers within your space to be elegantly topped off with an infusion of sugared spice. This ambered-sweetness lends a comforting, and almost nostalgic touch, to be shared cozied up with your loved ones… or wrapped up in a blanket secluded from the cold outside air. 

All of our candles at Canvas Candle Company are made with phthalate free and paraben free fragrance, natural essential oil, lead-free cotton wick. 


You'll love Nightcap if you've liked these scents: Woodland, Nostalgia, Amaretti, Bourbon Pumpkin
SIZES:
Choose between:

6oz gold tin with up to 40 hr burn time
8oz glass vessel with a natural cork lid and up to 50 hr burn time
CANDLE CARE:
For optimal burning, we recommend burning your candle long enough the entire surface becomes liquid with each burn. This will prevent tunneling in your candle.
Before relighting your candle, always be sure to trim your wick to 1/8". This will ensure a longer and cleaner burn while keeping the flame under control.
Never leave your candle unattended while burning and always burn your candle on a fire proof surface that is clear of obstructions. 
If there is less then 1/2" of wax remaining do not light your candle. Burning with less then 1/2" of wax remaining increases the chances of overheating of the vessel.
SHIPPING: Free shipping on all domestic orders over $125. Your order will ship within 3 business days.