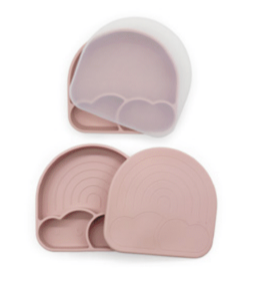 A solution to messy mealtimes! Raw Love Baby silicone suction plates are desiged to ensure the meal that parents prepare with so much love end up in their bellies and not on the floor!
DETAILS:
Suction base to adhere to flat surface and avoid spills
Allows child to self-feed and develop fine motor skills with uingh utensils 
Easily washes, remains stain-free and durable 
Fridge safe
Dishwasher
Microwave safe
Food grade silicone 
CARE:
Wash before first use. Rinse with warm soapy water and use. Can be placed in top rack of dishwasher. Can be steam sterilized or boiled. Avoid putting wooden parts in the dishwasher or microwave as they will cause the product to deteriorate. 
SHIPPING
: Free shipping on all domestic orders over $125. Your order will ship within 3 business days.