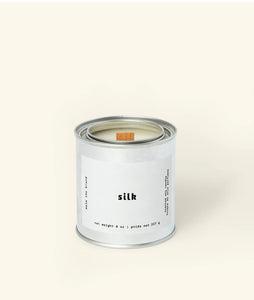 TONKA BEAN + JASMIN + COCONUT
This velvety scent pairs perfectly with your next at-home dinner party. Rich, but not overwhelming, Silk will keep your company in good spirits all night long. Pass the G+T, please! 
All candles are hand-poured in Vancouver, BC and a tree is planted with every purchase. 
NOTES: Tonka Bean, Coconut, Jasmine
SIZE: 4oz or 8oz

BURN TIME: 4oz: 20-25 hours / 8oz: 40-45 hours

MORE DETAILS:

cruelty-free, 100% vegan. made with high quality blend of phthalate and paraben free fragrance and essential oils.
custom blended coconut-soy wax is made to burn cleanly (meaning it doesn't create harmful, black soot like paraffin candles do) and is 100% biodegradable, free from toxins, made from vegetables and a renewable source
cotton wicks are lead-free and woodwicks are FSC certified approved
delivered with biodegradable packing peanuts, & recyclable packaging 

REVIEWS:

"Best thing I've Smelled. Couldn't help picking one of these up at Nordstrom (the packaging is SO pretty) and wow! Silk smells so light, fresh, and rich. Like it literally smells like walking into a bougie 5 star resort. 10/10."

"My absolute favorite! I've tried several candles from Mala, and although I have enjoyed their other scents silk is my #1!! The fragrance is so beautiful, well-balanced and calming, and the candle itself has an amazing throw. Mala thanks so much for creating one of my all-time favorite scents!! <3" -A.C

"Literally the freaking best smelling candle I've ever bought in my life. Just buy the candle. The smell when I opened the box was so good that I nearly passed out. 10/10, 5 stars— buy all their candles." -C

"Incredible! What a fantastic scent - this candle smells rich. It's calming and warm and my new favourite candle for sure!" -Tamara


DIRECTIONS:

On first burn, let wax reach a full melt pool to avoid tunneling. (around 2 hours) with every consecutive burn, keep wick trimmed to about 1/8 - 3/16" inch. do this by pinching off the curled bits of the black, not the entire black portion! it is natural for the flame to dip in and out on different burns, so long as it does not fully go out. for best results, use a long lighter (hold it to the wick for about 5 seconds) to properly fuel the flame. remember, patience is key here! wood wicks take time to maintain as they are essentially mini fireplaces. :)


CANDLE SAFETY: 
To avoid fire hazard, never leave a burning candle unattended and always light on a heat proof surface. keep out of reach of flammable objects, pets, children, or anything that may catch on fire. do not burn the candle for more than 4 hours at a time. stop use when only 1/2" of wax remains. 

SHIPPING: Free shipping on all domestic orders over $125. Your order will ship within 3 business days.