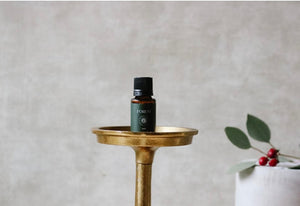 Handmade by Auratae. 100% Pure, Natural and Organic Essential Oil

Formulated to bring a sense of calm and relaxation. Clary sage has long been studied for its calming effects and is one of the key ingredients in our calm blend.

SCENT DESCRIPTION: Balsam Fir, Hemlock, Spruce, Cedar


USAGE: Diffuse 5-10 drop of essential oils in your diffuser to lift your spirit, motivate and inspire.


SIZE: 15ml

CAUTION: Use caution on surfaces as Orange and Turmeric are orange in colour and may stain clothing. As with all orange oils, this oil will leave colour behind in your diffuser - it will wipe away with our alcohol
cleaner.


SHIPPING: Free shipping on all domestic orders over $125. Your order will ship within 3 business days.