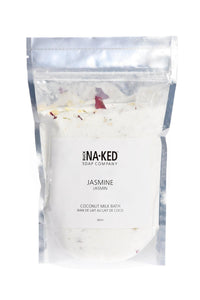 Take a dip into extravagant, skin enriching luxury with the Buck Naked Jasmine Coconut Milk Bath! This vegan coconut milk bath is rich in vitamin C, magnesium and copper, which help maintain skin elasticity and aid in the prevention of wrinkles. Combined with romantic jasmine essential oil and coupled with jasmine and rose petals, this coconut milk bath is lush and helps provide the perfect backdrop for a relating night in.
INGREDIENTS:
Cocos Nucifera (Coconut) Fruit Extract, Sodium chloride (Sea Salt), Magnesium Sulphate, Rosa damascena (Rose) Petals, Jasminum Grandiorum (Jasmine) Buds, Jasminum Officinale (Jasmine) Extract
SHIPPING: Free shipping on all domestic orders over $125. Your order will ship within 3 business days.