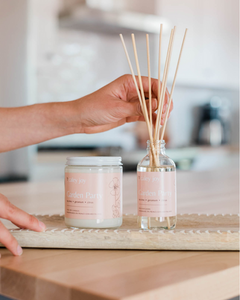 Your favourite by caley joy scents are now in a long-lasting diffuser capsule.
Seaside Mist |
Driftwood + Salt Water + Dune Grass 
Our reed sticks, made of lightweight wood, absorb our refined fragrance oils as they sit in the liquid. The oil gradually travels up the wooden stems, naturally dispersing fragrance into the air. Because the reeds are positioned to rest at different angles, they point the fragrance in various directions, encouraging the scents to travel throughout the home.
Handmade by caley joy in Summerside, PEI
SCENT DESCRIPTION:
Sweet citrus mixed with a floral aroma of the baja cactus. Reminiscent of the relaxing application of coconut sunscreen you would put on down at beach; fresh and sunny with a sandalwood base. Pairs well with our by caley joy baja sur bath salts. A staff favourite.
DETAILS:
Long-lasting
Household favourite
Diffusers last 6+ months
Care instructions: flip stems weekly to ensure scent stays fresh and fragrant in the home. 
SHIPPING: Free shipping on all domestic orders over $125. Your order will ship within 3 business days.