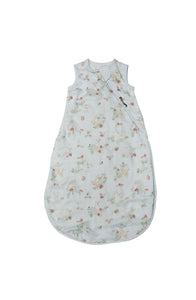 Keep baby safe and warm all night with our handy lightweight muslin sleep sack! Designed specifically for bedtime and naptime, this cozy and clever solution can't be kicked off—which means a more restful sleep for the baby.
Made with soft, breathable muslin fabric, it features a 2-way zipper that opens all the way around the bottom for easy diaper changing and a sleeveless design that's perfect for the late spring and summer months.
Manufactured at an OEKO-TEX Standard 100 certified factory, you can feel confident that our sleep bags are
free of toxic chemicals and always safe for your baby.MATERIALS: 
70% rayon from bamboo, 30% cotton

CARE: 
Machine washable in a garment bag; tumble dry on low
MORE DETAILS:
By combining a timeless, feel-good aesthetic, memorable pops of color, and an uncompromising commitment to the safest, highest quality materials.
Breathable
Ultra-soft on skin
REVIEWS:
"Perfect fit for my 10 week old! My baby started rolling before 3 months but every sleep bag I found for him the neck was too big snd would go over his face to his nose. Then I found this brand and the sleep bag neck is smaller than every other brand and fits perfect for my baby! He is now 13.5 weeks and the sleepbag still fits him great with room to grow. The material is so soft and breathable and the designs are so cute! I bought 3!" -A
"Love these sleep sacks! These sleep bags are amazing. They are so soft, and they are the perfect lightweight muslin to support my little one in transitioning from a Muslin swaddle. Our little one runs warm and this is the perfect level of warmth to keep him comfortable at night. This is our second of these sleep bags and I highly recommend them!" -Aurora
"In love. This sleep bag is so lightweight that it is just enough for my 4 month old to get a great night's rest. I really like the material, because it feels breathable yet will keep baby comfortable and cozy. And my husband really liked the design I picked too!"  -A
"Baby now sleeps through the night! I'm sure it's a coincidence but my baby started sleeping from his dream feed at 10 right until 6am the night I first put him in this sleep sack. I love it and he loves it! He smiles when I put it on. I love the design and it's so soft. My husband did say "why do they make baby stuff that can't go in the drier?" So we put it in the drier and I don't think it shrank." -A


SHIPPING: Free shipping on all domestic orders over $125. Your order will ship within 3 business days.