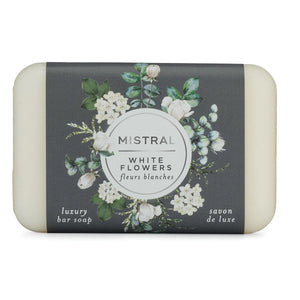 A bouquet of opulent white gardenia, lush hyacinth blooms, and fresh jasmine. Staff favourite!
Crafted according to a time-honored French tradition. Made with natural and organic ingredients and original perfumes from Grasse, France, these triple-milled bar soaps are long-lasting, luxurious and exquisitely fragrant.
FEATURES:
Organic shea butter and olive oil
Gentle and moisturizing for dry, sensitive skin
French-milled soap for long-lasting use
Pure vegetable soap
SHIPPING: Free shipping on all domestic orders over $125. Your order will ship within 3 business days.